Send for signature
The following instructions provide the steps necessary to send a document for signature in ShareFile.
Once electronic signature is enabled for your ShareFile account, you can send documents for signature. For more information on enablement, see Getting started.
From your ShareFile account, select the document you want to send for signature. The preview window opens.

Select Send for Signature to open RightSignature.

Select Prepare Document then type the name of the signer and their email address.

Select Next: Place Fields to create the signer and annotation fields for the document's recipients.

Select Next: Review to type a personalized message, set an expiration date, and add security settings such as passcode and KBA for the signer, if necessary.

Select Send Document.
Message status
The signer receives an email requesting the signature for the document. You can monitor the status by selecting the document in the RightSignature dashboard.

The Overview provides the following information.
People involved: recipient names and email addresses.
Security Options: including expiration date, passcode, and signer sequencing, if selected.
Tags: if selected.
Message to Recipient(s): the message that you provided to the recipients when you requested their signature.
The History provides a timeline of actions from signature request creation to the document signature executed by the signer(s).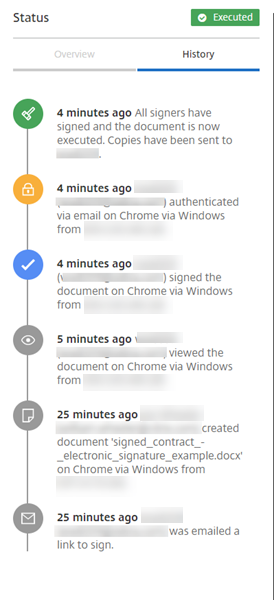 Copied! Failed!