Default settings
Default settings can be edited during the Create a signature request workflow. This allows you to make adjustments to customize the experience for a specific signature request.
To access the Edit default settings while creating a request, from the Review and Send section of the workflow, select Edit default settings.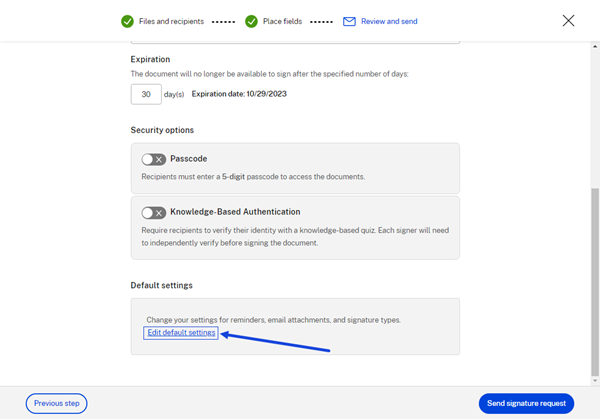 The Edit default settings pop-up displays.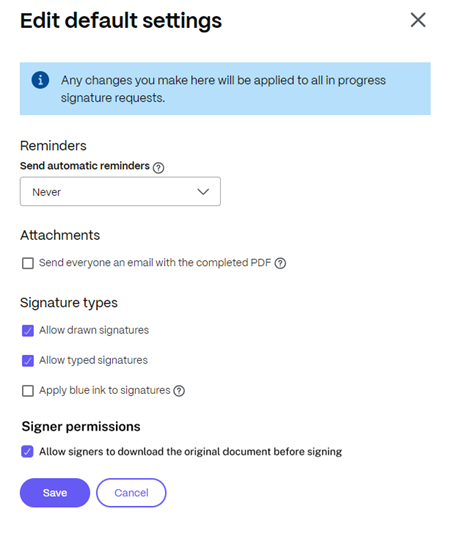 Reminders
When selected, you can provide automatic signature request reminders based on the time settings allowed.

Email document recipients:
Weekly (on the third, seventh, fourteenth, twenty-first, twenty-eighth day)

Daily (starting on the seventh day until the thirtieth day) if a document is unsigned.
Attachments
When selected, after the last signature request is completed, ShareFile Signatures sends an email with a PDF attachment of the completed signed document.

Note:

Documents larger than 10 MB are not provided.
Signature types
Select how you want the recipients of the request to sign using the following signature types available:
Drawn signatures - Select this signature type to allow the signer to draw their signature using a mouse or a touch device.

Typed signatures - Select this signature type to allow the signer to type their signature using a keyboard.

Blue ink signatures - Select the blue ink signature option to distinguish a signed original from a photocopy. All original copies display the signature in blue.

Note:

Blue Ink Signatures settings can only be changed by Admins.
Copied! Failed!