Tasks
Tasks is a feature for ShareFile Premium users using Projects (or Engagements).
Tasks allows an organization to organize and track back-office work related to a client project inside the project itself. It helps them see the overall project's progress and know who is tasked with doing the work.
Use the instructions below to create tasks in ShareFile Projects.
Instructions
In your ShareFile Premium account, navigate to your Projects and select the project you want to create a task for.

The dashboard for the selected project displays.

Select the Tasks tab.

Select Create a task.

The Create new Task popup displays.

Type in the Title for the task.

Select who to assign the task to in the Assigned To field.

Type in a description if necessary.

Select the current status from the options provided in the Status dropdown.

Select a Due Date. You can backfill a task with a post date if the task is complete.

Select Create a task. The Created Task confirmation displays briefly.
You can track the progress of this task in the selected project's dashboard. You can also review the details of the task by selecting the View Details menu item from the verticle ellipses.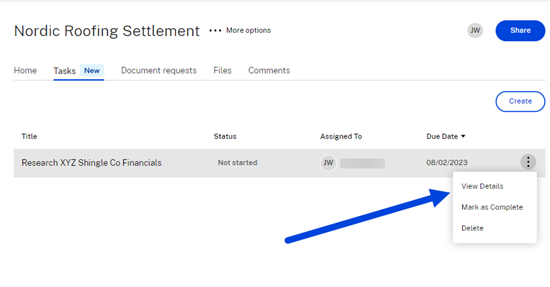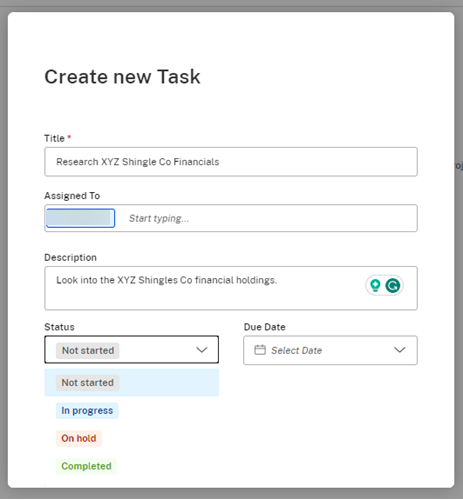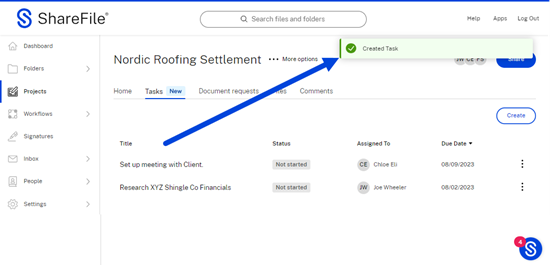 Copied! Failed!