Click Trails
Using Click Trails allows an account administrator to see all of the steps that an individual has taken within the Virtual Data Room from the time that they login until the time they logout. In order to use Click Trails, you must:
Have the VDR Analytics Page permission.
The Virtual Data Room Click Trails feature can be found at:
Admin Settings > Advanced Preferences > Company Account Info > Click Trails
Select this to open the page that list your users, location, and the session start time. There is a link to View Session on the right. Use the View Trails for dropdown to set the view for a specific period of time.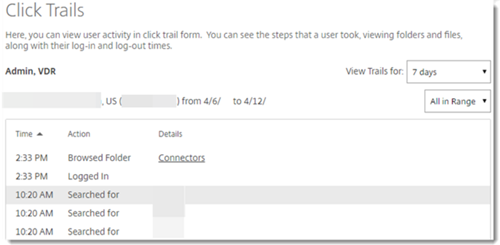 When you select View Session for a specific user, you can review a list of that individual's ShareFile session from the time that they logged in until the time that they logged out.
Selecting the individual's name from the original list, you can review all of their sessions during a specific period of time.
Copied! Failed!