ShareFile Reporting
To see how your ShareFile account is being used, you can create recurring and non-recurring reports that track usage, access, messaging, storage, and other details.
Limitations
All recurring reports are run based on Eastern Standard Time.

ShareFile does not provide or support customized reports.
Prerequisites
An Administrative user on the ShareFile account.
An Employee user with the Allow this user to access account-wide reporting permission.
If running a report for a specific user, that user must be a member of the Shared Address Book.
Report types
Select the Report name for more information.
Create report
Complete the following steps to create a ShareFile report:
Sign into ShareFile.

Navigate to Settings > Admin Settings > Company Account Info > Reporting.

Select the Create Report button and choose the type of report you want to run, then click Next.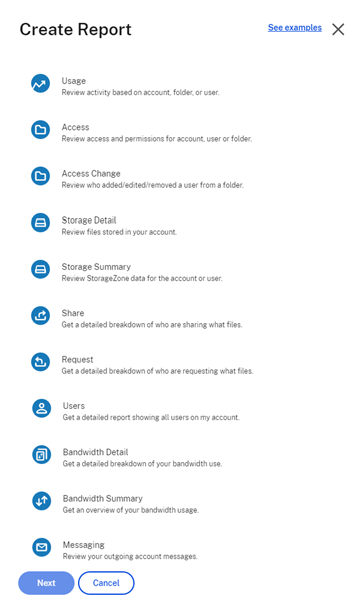 Fill in the details as required and click Create. Reports can be generated as Excel or CSV files.
Recurring report:
To create a recurring report, follow the earlier steps through Step 3. Then, choose Recurring as Yes, fill in the other details as required and click Next.
Choose Daily, Weekly, or Monthly based on your needs. Choose the folder where you want the recurring reports to be saved on your account and click Create.
Do not remove the destination folder from the system. If you do, future recurring reports might fail.
Report Pending:
Allow time for your report to be processed and completed. Depending on the amount of time and the final size of your report, the time it takes for the report to finish might vary.
View Completed Report:
You can view, download, move, or delete reports at any time by returning to the Reporting menu and accessing the list to the right of the Report Title.
Note:

Reports support a maximum period of 90 days. ShareFile recommends a maximum of 30 days.
Notification History
The Notification History page contains a history of all email messages that have been sent from your account. You can select a date or a specific email with the options shown.
Copied! Failed!