Download and open the app
Minimum supported version
ShareFile for Mac v 2023.8.7 or later
Download the latest version of ShareFile for Mac at ShareFile Downloads.
Download ShareFile for Mac
The following steps explain how to download ShareFile for your Mac.
Download the installer.

Open the installer package and follow the prompts to install ShareFile. You might be required to provide an administrator password to complete the installation.

Once the installer opens, select Continue through the prompts.

After reviewing the License aggreement, select Agree.

Select Install.

Once the installation completes, the Installation was successful screen displays.

Select Close.
Open ShareFile for Mac
Once the installation is completed, the ShareFile sign on process starts.
Type your account URL (enter "mycompany" for mycompany.sharefile.com) then Continue.

Type your email and password, then select Sign In.

Select how you would like to verify your device.

Enter the ciode you received to verify your device.
Once you are verified, the Welcome to ShareFile screen displays. Select Continue for tips on how to use your ShareFile for Mac application.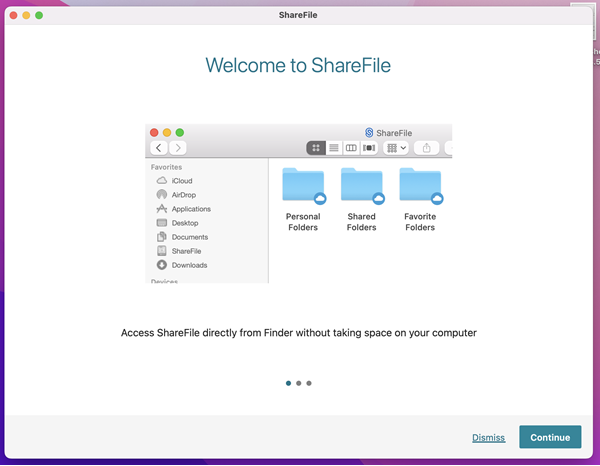 To access your ShareFile for Mac dashboard, see the Sharefile icon on the Mac bar.
Important:

To access ShareFile for Mac for the first time, you might receive a system message requiring you to provide a system extension for ShareFile. For more information on system extensions, see About system extensions and macOS.
Download and open the app
Copied! Failed!